About
NEDDE REAL ESTATE celebrated the groundbreaking of 79 Pine Street, known as THE NEST, in November of 2021. The 47,000-square-foot building adds 49 exceptional apartments to Burlington's Downtown District. This building is the first new residential construction of its kind in the Downtown District in over 15 years!
Situated in the heart of Vermont's largest city, the newly constructed building stands as a core pillar of Burlington, providing a modern, environmentally friendly home for our neighbors, family, and friends. The apartments are created with energy efficient construction, thoughtful details, and a gorgeous design. Experience a premium downtown living experience with the ease of this walkable, bikeable location within steps of free downtown shuttle service, Lake Champlain and Waterfront Park, the Community Sailing Center, the Flynn Center, and Church Street Marketplace.
Our residents enjoy expansive city, or lake and mountain views from 9-ft high windows, ensuring abundant natural light. Apartments include stainless steel appliances with microwave and dishwasher, as well as in-unit ventless washer and dryer. As one of the tallest buildings in the city, the view from all four sides is spectacular. Get to know your neighbors while enjoying breathtaking sunsets over the Adirondacks from the rooftop terrace, complete with fire pits, soft seating, pizza oven, barbecues, and an indoor lounge with kitchen. Resident amenities also include a fitness room with Peloton bike, a bicycle storage room with bike maintenance station, and a teleconference/theater room. Enjoy views of and a short walk to various marinas such as the Ferry Dock Marina.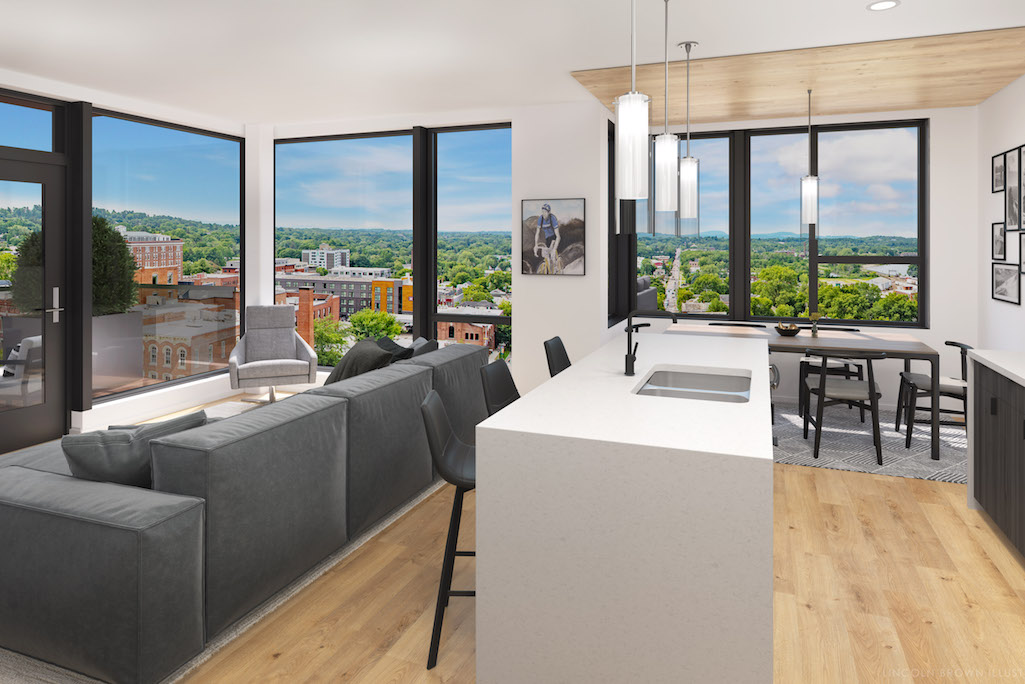 Spacious and bright 2-bedroom apartment offers sweeping views of the city.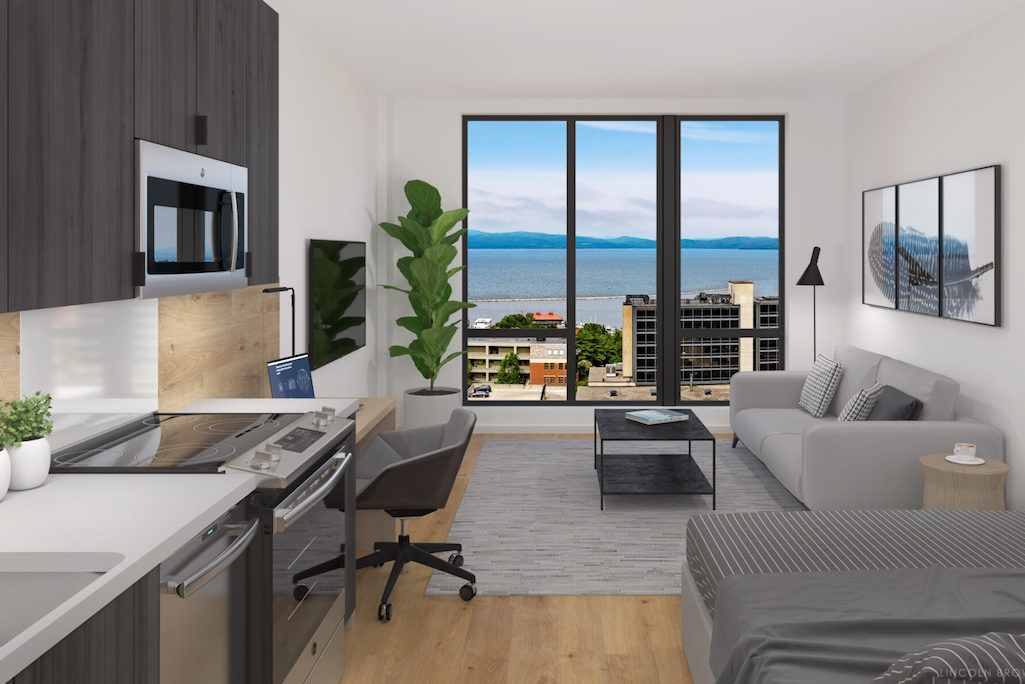 Efficiently designed studio apartment with a 9-ft high window allows abundant light and a beautiful view.